Cabin Filter: What It Is, What It Does, and When to Replace It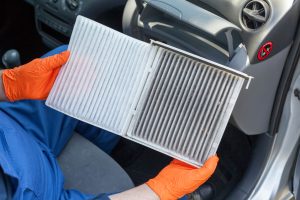 When was the last time you replaced your cabin filter? If you can't remember, it's probably time to do so. Cabin filters play an important role in keeping the interior of your car clean and free from allergens and dust. They should be replaced on a regular basis, depending on the quality of air where you live. In this blog post, we will discuss what cabin air filters are, what they do, and when to replace them. We'll also provide some tips on how to choose the right cabin air filter for your vehicle.
Cabin filters are made to prevent outside allergens and dust from entering your vehicle's air vents. They are located behind the glovebox and clean the air as it moves through the vehicle's HVAC system. Cabin air filters remove particles like dust, hair, pet fur, and dirt and other harmful pollutants from the air. Air filters act as a sieves to capture particles as air flows through it. Particles that are larger than the holes in the sieve get caught in the filter or on the surface of the filter preventing them from entering the clean airstream. Cabin filters degrade over time as air moves through them; the more air that passes through or the worse the quality of air, the faster an air filter will need to be replaced. Depending on the quality of air where you live, you should replace your cabin air filter every 12,000 to 15,000 miles or every year, whichever comes first.
When choosing a cabin filter, it is important to choose one that is compatible with your vehicle. Cabin filters come in a variety of sizes and shapes, so it is important to consult your vehicle's owner's manual or a professional before purchasing one. You should also keep in mind that some cabin air filters are designed for specific climates. For example, if you live in an area with a lot of pollen, you may want to choose a cabin air filter that is specifically designed to remove pollen from the air.
If you have any questions about cabin filters or need help choosing the right one for your vehicle, or if you need help with other services, please contact us. We would be happy to assist you.