Brake System Service: Important Tips to Remember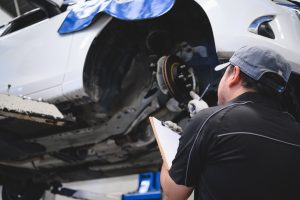 Your brakes are one of the most crucial safety features on your vehicle, and they need to be in optimal condition to work properly.Regular brake system services help ensure that your brakes are performing at their best, which can help you avoid accidents or dangerous situations while driving.
A brake system service usually contains these three key components. A technician will first inspect and, if needed, replace the brake pads. Next, they will look at the brake rotors for wear and tear. Lastly, they with flush out the old brake fluid and put in new fluid.
All of these pieces are key to a properly functioning brake system. The brake pads create friction that stops the wheels from spinning. If they're too worn down, there won't be enough friction to stop the car effectively.
The brake rotors are what the brake pads press against to create friction. If they're damaged or warped, it can affect braking performance. Brake fluid helps transfer pressure from your foot on the pedal to the pads. If it becomes contaminated, you could have issues with your brakes.
Servicing your brake system is crucial for many reasons, but most importantly because it safeguards against possible accidents. If you don't maintain your brakes properly, you might not be able to stop driving in time which could lead to a collision. However, by servicing your brakes often, you can avoid these dangers and have the peace of mind knowing that they are always functioning as intended.
Here at Wolf's Westside, we would happy to help you maintain your car's brake system by answering any questions and setting up a schedule for service if needed.